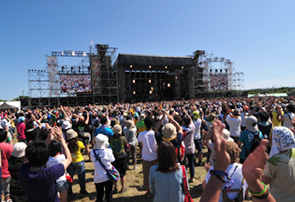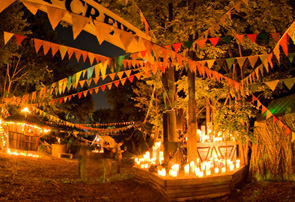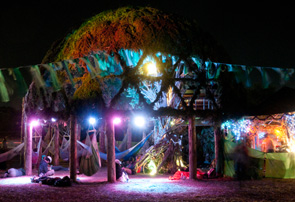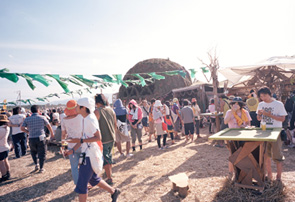 RISING SUN ROCK FESTIVAL (a.k.a. RSR) is the very first ALL-NIGHT outdoor rock festival in Japan since 1999. "Let's enjoy ROCK MUSIC in the vast field with rich natural surroundings." That was our first motivation to start RSR from nothing. We proudly present you it's 14th anniversary.
At first, we started to remove tons of weeds in the vast ISHIKARI wilderness. The festival is like a wonderland that appears only for TWO days out of 365 days. We install the electricity, connect the water and build up the big stages. We also provide attractions other than shows: various restaurants and venders offering local HOKKAIDO food, the panoramic view of great outdoors and discussion booths covering environmental problems and other topics. One of the best features of RSR is that you can set up tents within the festival site where you can see the stages right in front of you!!
Based on DIY policy, there are no assigned seats, and we don't have any guide staffs. Several shows are running on at the same time at the different stages. You have to make your own schedule. You also need to think about what is the most appropriate clothes and shoes to walk through the unpaved track. Additionally, local weather in August is very severe and its temperature changes extremely. You should be well-prepared for bad weather, too.
We make only a few fundamental rules and regulations; instead, we ask you participants to think and act with proper manners. Not depending on others or provided services, we would like to ask you to DO IT YOURSELF. It's not too much to say that such attitude is the most important factor to enjoy RSR. FREEDOM and RELIEF from the day-to-day life is waiting for you, if you are on the right track. We wish you enjoy the very best freedom only for 2/365 days.
Today, RSR welcomes a lot of people from all over the nation. As the festival has been growing, on the other hand, we have faced various unexpected problems. But we never stop running to continue RSR for the next decades. We are proudly looking forward to seeing you at RISING SUN ROCK FESTIVAL in EZO 2012.